19 Nov

The Bryant is David Chipperfield's First Residential Building in New York

The Bryant is a U.S. Immigration Fund project.

All content originally posted on designboom.com, November 19, 2015
all images courtesy of the bryant

british architect david chipperfield has revealed more details of 'the bryant', a new residential tower to be built in central manhattan. situated above a boutique hotel at 16 west 40th street, the project is set to be constructed on bryant park's last available site for new-builds. the condominium is being developed by real estate investment firm HFZ capital group.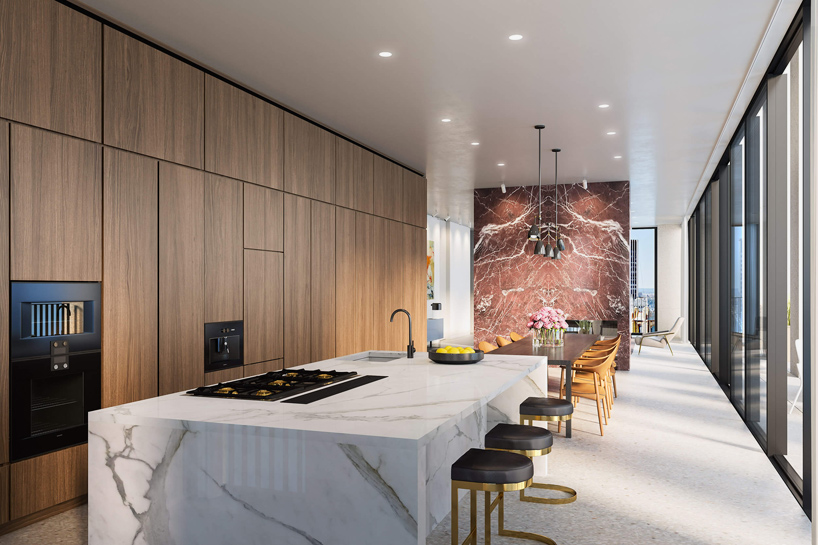 the tower includes two triplex penthouses
the tower is comprised of 57 one to four bedroom residences on floors 16 through 34, including two triplex penthouses. each unit boasts elegantly framed floor-to-ceiling windows, at least one corner exposure, and sliding doors that blur the division between inside and out. the building's custom-made aggregate terrazzo façade transitions seamlessly inside the structure, framing the large windows and bordering the herringbone floors.

the penthouses feature private roofdecks with adjoining sunrooms
'the idea that the structure and the façade are the same thing, made out of polished concrete, will give the building a tectonic and physical presence,' explains david chipperfield. 'through this, the building is reduced down to elements of columns and windows, of solid and void, mass and space. I think you can make architecture out of very simple things, it doesn't have to be complicated. the difference between a good building and a bad building normally resides in it being more thought about.'
all residences boast uninterrupted 9'6" (2.9m) ceiling heights
internally, each residence features bespoke millwork — designed by chipperfield himself — which conceals storage, appliances, and mechanical systems, and allows for uninterrupted 9'6" (2.9m) ceiling heights.meanwhile, italian marble finishes are found throughout the kitchens and bathrooms. additional amenities include: a 24-hour concierge, a 6th floor club living room lounge, a fitness center with steam room, sauna, and showers, a restaurant with priority reservations for residents, and a porter service.
'we are very pleased to partner with world-renowned architect sir david chipperfield for his first residential condominium project in new york city — the bryant', commented ziel feldman, chairman and founder of HFZ capital group.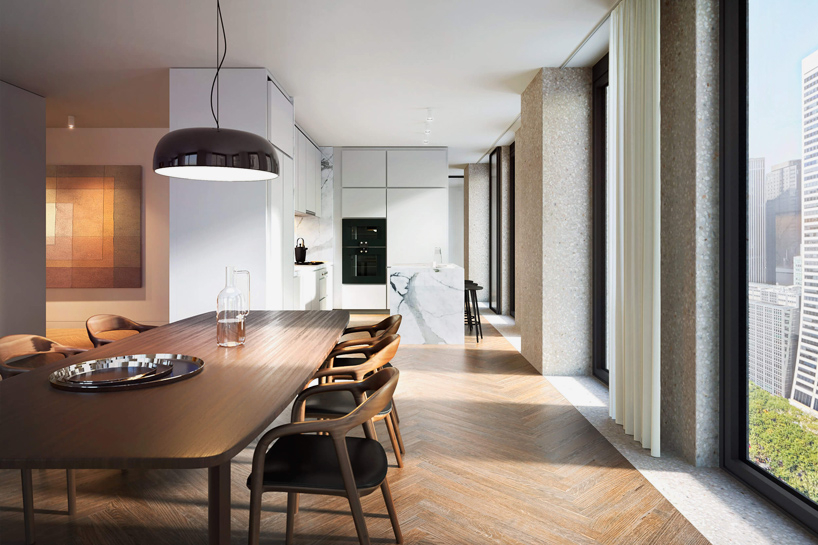 uninterrupted ceiling planes create fluid transitions between rooms
speaking at the project's official launch, chipperfield talked in more detail about working on the scheme.
'doing commercial projects is difficult because there is, in a way, a confrontation set up immediately between the commercial viability of a project and the architectural aspirations of a project. I think this is a project where we really managed to coordinate those aspirations through a lot of patience. I have to say ziel (HFZ capital group) and his team have been very patient and understanding, and so have we, in trying to make sure that we build something that is both commercially viable and architecturally interesting.
oak herringbone floors extend throughout each unit
'there is a sort of synthetic quality to modern architecture and it is partly to do with the efficiency of construction, and the way you take away risk,' continued the british architect. 'many years ago we converted the 'american radiator building', (also on bryant park), raymond hood's masterpiece that was the tallest building in manhattan when it was built. it's a brick building, and it was wonderful to work on. we worked very closely with its fabric — it was extraordinary to work with a brick tower, a very handmade building.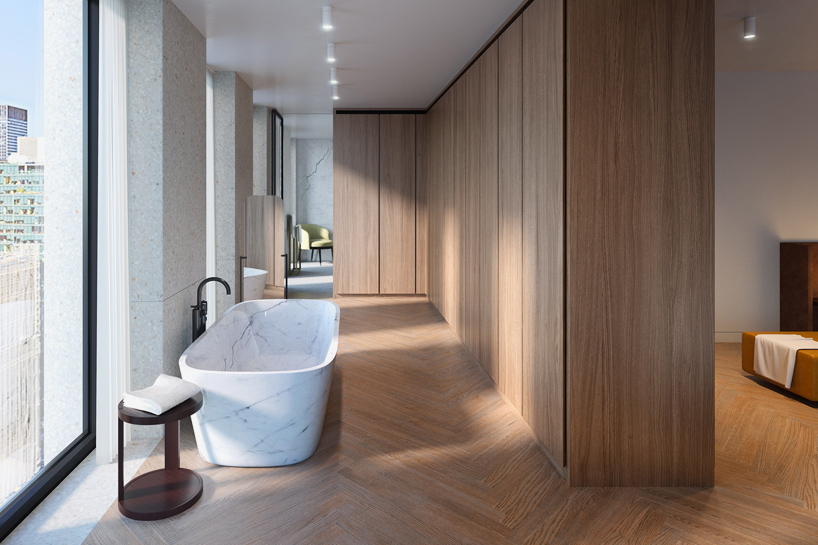 the penthouse master bathroom includes a spacious windowed dressing room with marble tub
'I think that in all of our work we try to find ways of bringing back what one might call 'substance' — getting away from the tendency to 'clad'. essentially what happens in the construction process is you build a concrete or steel frame as quickly as possible, you get everything in, and then you put a curtain wall on it. then on the inside you leave a tolerance zone for contractors to put all the services in, and the architect is told to stay away from that process. we are interested in seeing whether we can resist that in some ways, but not in uncommercial ways.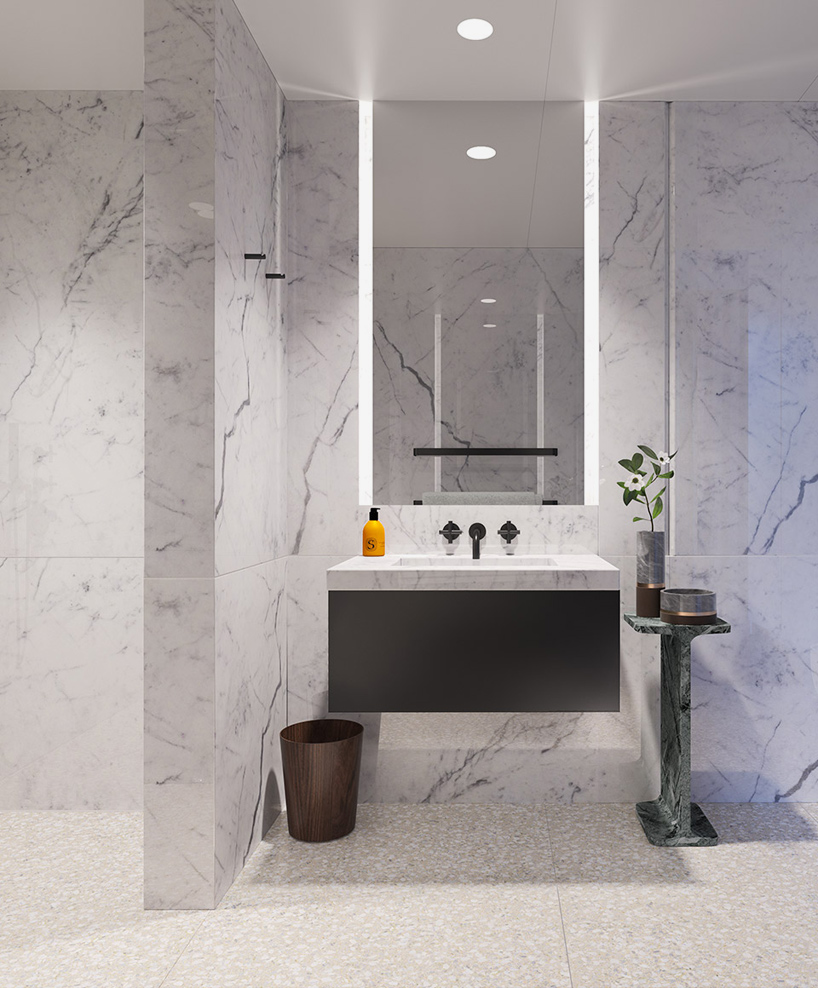 italian marble finishes are found in bathrooms
'the concrete cladding, which transfers to the inside, confirms how this building will not just be concrete-framed, but will actually have the appearance of being made out of concrete — giving it substance. there isn't any synthetic layering, there isn't a simple panel going on the outside. I've always taken it to be a measure of architecture: what is left of it when it becomes a ruin.'
see here for designboom's previous coverage of the bryant, and see our full archive of projects by david chipperfield here.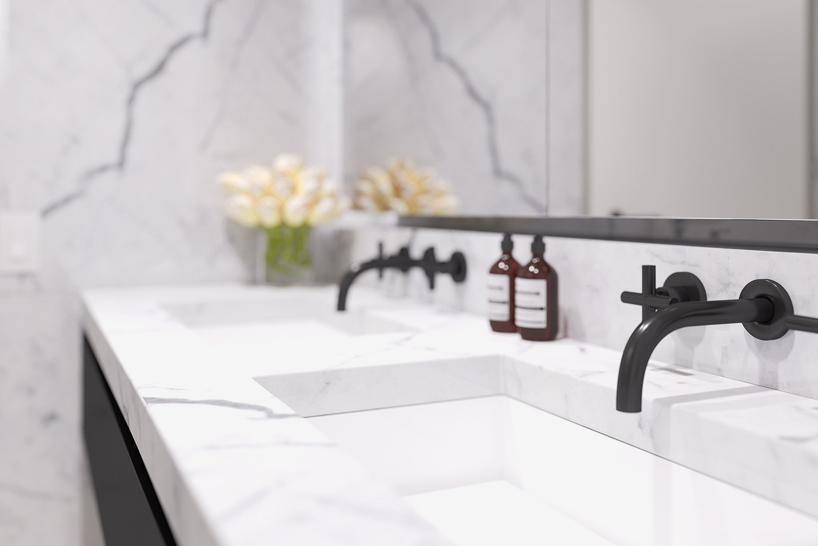 vanity with statuarietto marble slab top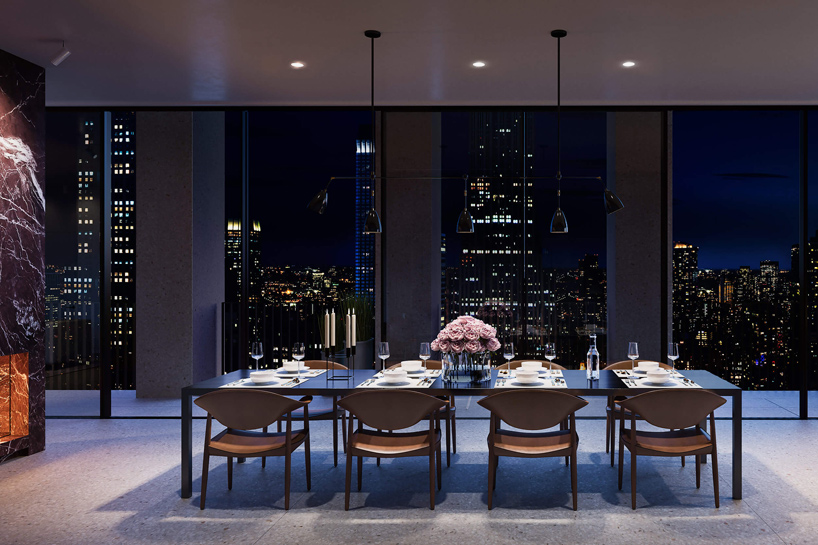 terrazzo floors expand to cover the entire entertaining level and private loggia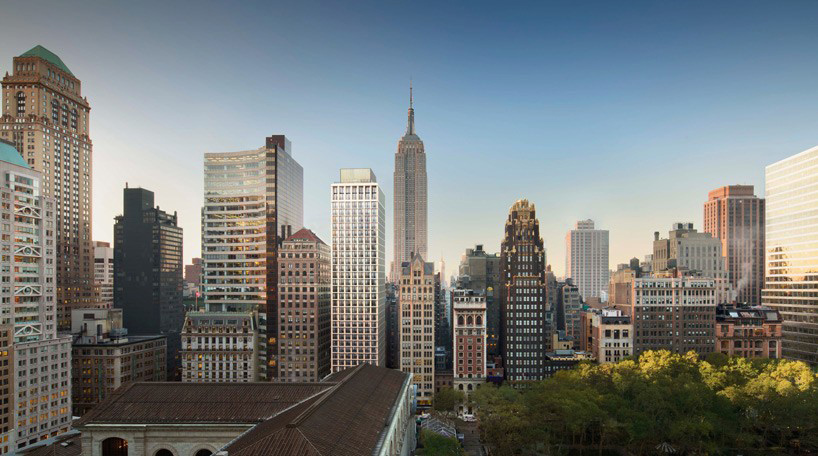 the tower on bryant park shown directly to the left of the empire state building
floor-to-ceiling millwork offers built-in storage and conceals mechanical equipment
david chipperfield-designed white lacquered millwork cabinetry
statuarietto marble slab walls, countertops, and tub surrounds
the walls of the private residential lobby will be clad in rare portoro extra marble