05 Mar

Rafael Viñoly's 125 Greenwich shows off its sales gallery

It has been six months since sales launched for 125 Greenwich Street, a U.S. Immigration Fund project. With increased momentum, Developers, Bizzi & Partners, are revealing the three different residences of the building. Interior finishes, designed by March & White (pictured below), reflect the surrounding neighborhood elements such as the Hudson River and Downtown.

By Tanay Warerkar | Mar 1, 2018

It took a while to get off the ground, but when it finally did last fall, things started moving pretty quickly for 125 Greenwich Street. Six months after sales launched, the development is now ready to show off its sales gallery, which gives us a peek at the three different types of residences the building will have to offer.

The sales office is located on the 84th floor of One World Trade Center, and looks out on to the construction site. The developers, Bizzi & Partners Development, have built out three residences—two one-bedrooms, and one studio—that are reflective of the palettes future residents can choose from. Interior design firm March & White have labeled these finishes Aqua, Terra, and Stratus as a nod to the Hudson River, the Downtown area, and the sky. Here's a peek at the three different finishes: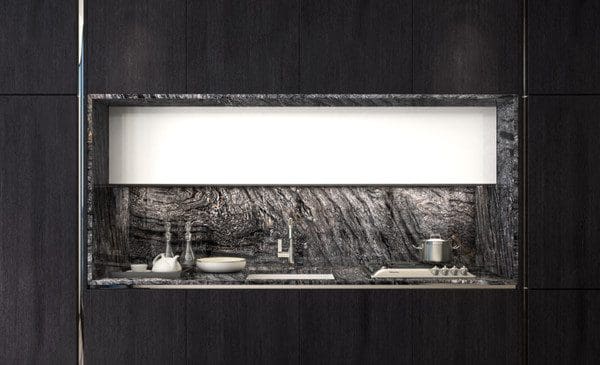 The renderings of the kitchen palettes above also show off the different marble finishes the developers will offer namely Ancient Grey, Silver Brown Wave, or Fior di Pesco Carnico.
125 Greenwich Street has a total of 273 residences that range in size from studios through three-bedrooms, including several penthouses. Prices on currently available units range from $1.275 million and go up to $5.55 million.
The 88-story, Rafael Viñoly-designed building will also have a robust amenity package that will take up the top three floors of the building and be known as The 88. The amenities, renderings of which were first unveiled in November last year, include an indoor lap pool, a spa and sauna, a fitness center, a private dining area, and a theater, among others.
When we last checked in with the construction site, the building was just get getting off the ground; the building is now at its 21st floor, and will eventually soar to 912 feet. Construction is expected to wrap in the fall of 2019.
Original Post: ny.curbed.com